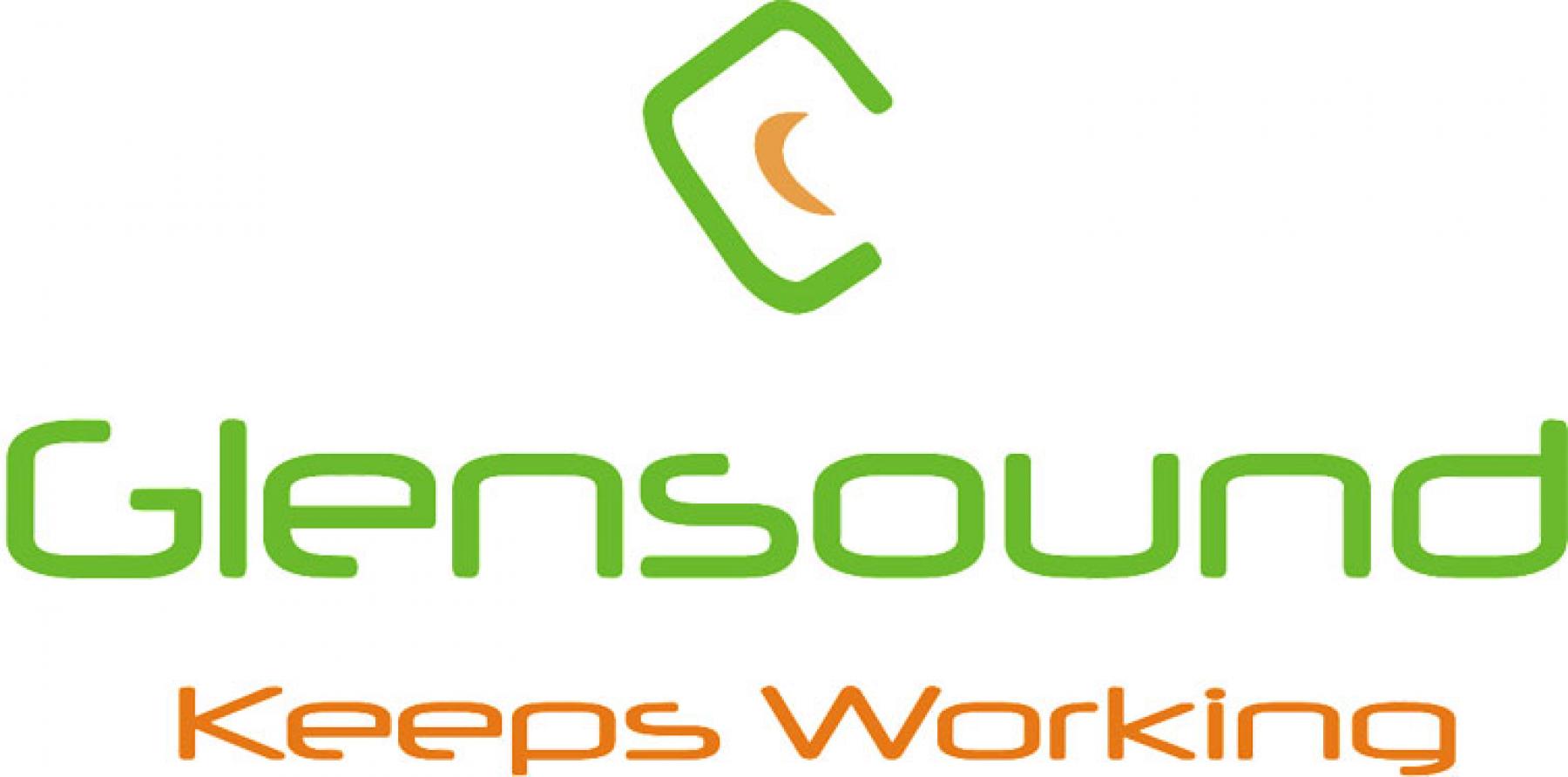 UK : 01622 753662
International : +44 1622 753662
Login / Quote Area
0 items in your quote basket

Twin headphone amplifier
1 x stereo input
2 x mono cue input
Source mix control between stereo and cue input
Stereo or mono operation
Headphone outputs available on front and rear
Headphone range 32-1000 ohms
The Signature HA2+ is a broadcast specification, twin headphone amplifier, designed to operate in a mono or a stereo mode.
The HA2+ has 2 x XLR inputs that are used as the primary programme audio input. This can be stereo, or, if mono, can be switched to appear on both sides of the headphone outputs. There are left and right programme input gain controls on the front panel, and they are on recessed screw terminals.
There are also secondary, mono cue inputs. Connections are via one of 3 x 6.35mm jack sockets on the rear panel. This allows a single cue input to be connected to both headphone outputs, or each headphone amplifier can receive an individual cue input.
On the front panel there is a source control for each headphone output that allows a mix between the programme and cue input. Full left is programme only, full right is cue only, and anywhere in between is a variable mix.

Each of the two headphone amplifiers has its own volume level control. There is also a master volume control that affects the overall level of both amplifiers. This can be defeated via a rear panel dip switch.
The headphone outputs are available via 2 x front panel 6.35mm headphone sockets, and in parallel on 2 x rear panel XLR connections.

The Expedition uses Glensound's propriety CAN headphone system. This allows multi impedance headphones to be used, from 32-1000ohm, with the same perceptual level in the headphones when the volume control is kept in a fixed position. Stereo or mono connections can also be made to the headphone sockets, including mono earpieces.
Rear panel inputs and outputs are electronically balanced on XLRs and can accommodate unbalanced connections if required.
Power is provided by an internal switch mode power supply, with a wide input range. There is also an input for external 12V DC power. The 12V DC input can be connected to the optional Signature Ps1 external DC Master Power Station, for situations where a redundant power supply is desirable.
A bright front panel LED indicates that the unit is operational.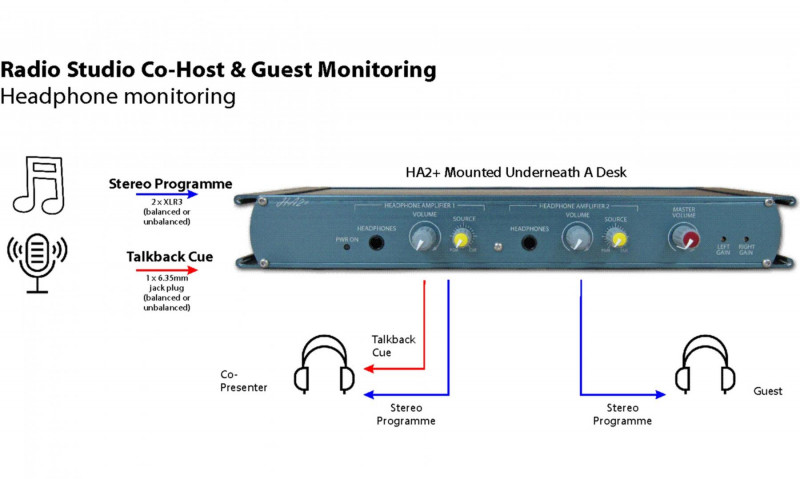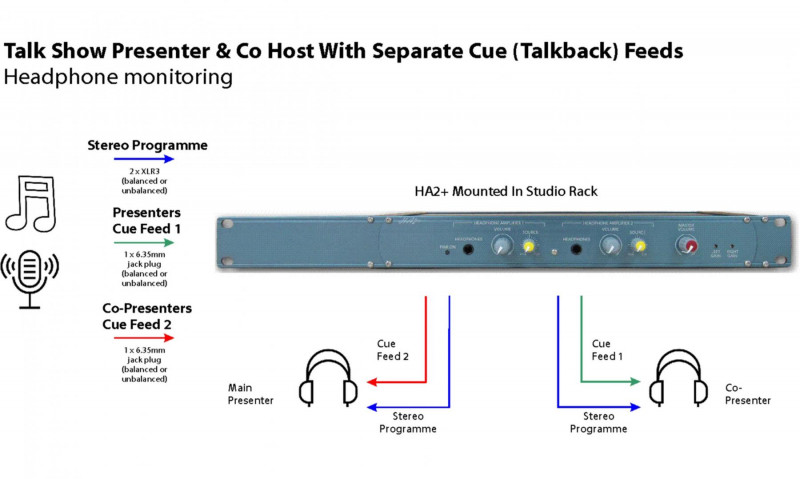 AUDIO INPUTS
Maximum Input Level: +24dBu
Input Impedance: 30k
Programme Input Type: Sophisticated electronically balanced
(can be wired unbalanced)
Programme Input Circuit: Stereo or mono (via rear panel switch)
Programme Input Connectors: 2 x Neutrik 3 pin XLR sockets
Cue Input Type: Sophisticated electronically balanced
(can be wired unbalanced)
Cue Input Circuit: Mono
Cue Input Connector: Neutrik A gauge 6.35mm (1/4") jack socket
Coarse Gain Range: +/-10dB on programme input only
Front Panel Volume Pots Range: 75dB (-65dB to +10dB)
Front Panel Source Control Range: 70dB (-70dB to 0dBu)

HEADPHONE OUTPUTS
Output Type: Sophisticated electronically balanced. Can accept mono or stereo jacks with automatic level correction for low or high impedance headphones.
Output Connectors: Front panel Neutrik A-gauge TRS 6.35mm (1/4") jack socket in parallel with rear panel Neutrik 3 pin XLR plug
Frequency Response: -1.7dB 20Hz, -0.5dB 20kHz
Maximum Output Level: +19dBu/67.07mW into 600 ohms and +8dBu/6.2mW into 32 ohms
Distortion: <0.01%THD@100Hz & 0.007%@10kHz. Reference to +8dBu output
Noise: >-83.3dB @ line up unweighted RMS (22Hz to 22kHz)
Headphone Impedance: 32-1000 ohms
Crosstalk: Crosstalk, Programme input to Cue input 1k tone @ lineup -74dBu
POWER
Mains Input: Filtered IEC, 100 to 240VAC 47 - 63Hz
AC Consumption: 2.2 Watts@230VAC
Internal Mains Fuse: 20mm 1A Anti Surge
DC Input: 4 Pin Neutrik XLR plug +/- 12V
DC Consumption: +12V=100mA, -12V=100mA

PHYSICAL
Size: 336 x 123 x 44mm (LxDxH) no rack ears, 482mm 19" (1RU) with rack ears
Weight: 0.94kg
Shipping Weight: 2.35kg
Shipping Carton: Rugged export quality cardboard carton 610 x 420 x 130mm LxDxH
Mechanics: All aluminium construction, anodized and laser etched


Same day dispatch is available on this item:
To arrange same day dispatch of an in stock item we must receive your purchase order or payment by midday (GMT) and your order must state that same day dispatch is required. If ordering via one of our distributors please make sure they know to ask us for a same day dispatch.
Next day delivery is available on this item:
If you're in a hurry then next day delivery is available to most of Europe and a lot of the rest of the World. We can arrange shipping by TNT, FedEx, DHL, UPS or Interlink, one of these carriers is likely to have a next day service direct to your door.
To book a next day delivery for this item please check with us or your local distributor prior to placing your order that this service is available to your location. (We'll need to know the full delivery address including postcode/ zip code to check with the shippers).
Need same day dispatch but don't have an account:
No problem although you can't purchase this item online from us we can take credit cards over the phone.