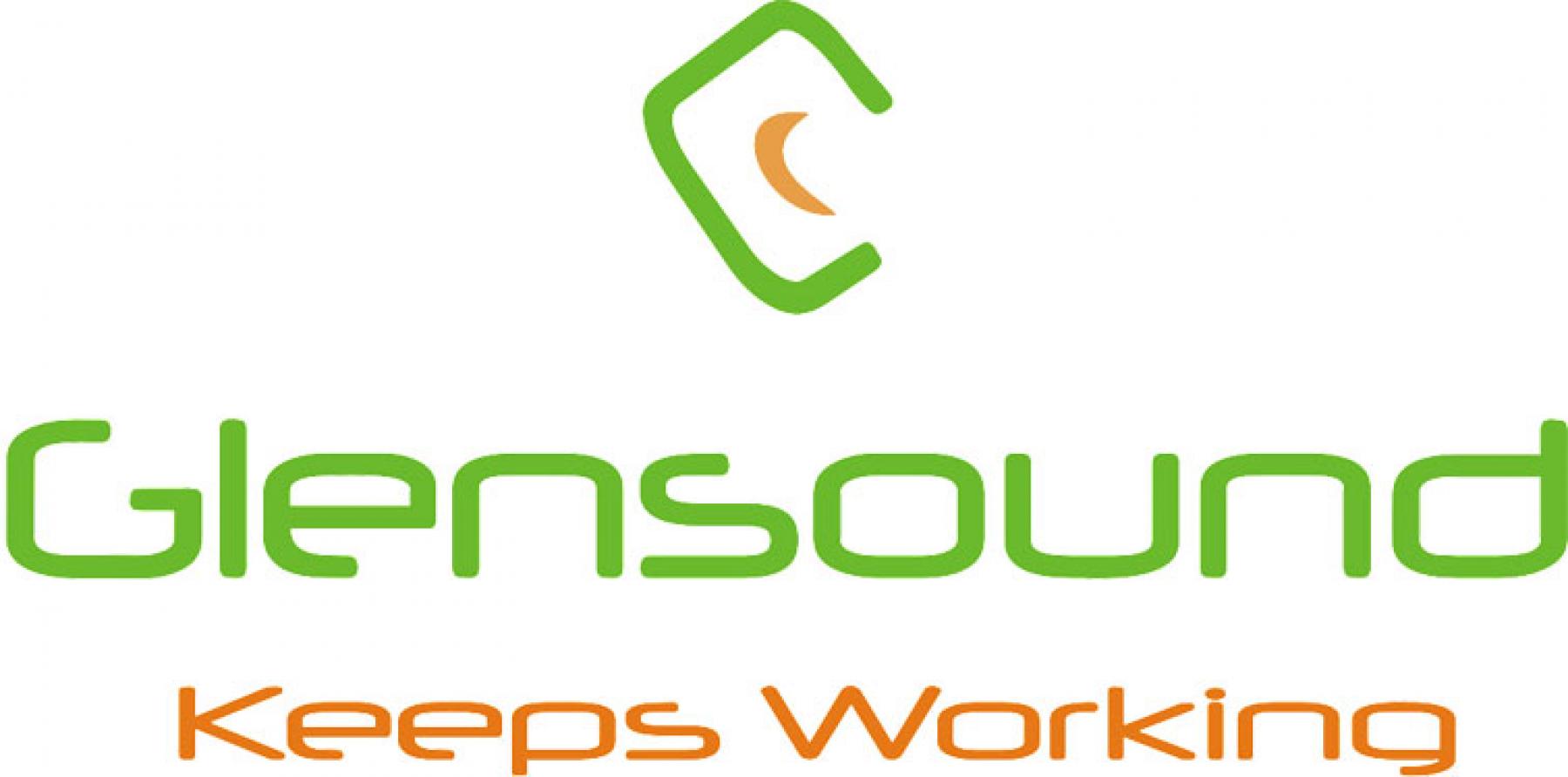 UK : 01622 753662
International : +44 1622 753662
Login / Quote Area
0 items in your quote basket
Multiple Mix-Minus Mixer Options
Up to 4 of 32 x 32 fixed ratio mixers in 1RU
Dante/ AES67
Limiter/ Compressors on Outputs
Redundant network interface
Copper & Fibre network interface
Redundant Power Supply
Originally designed for setting up intercom mixes
Loop Through Mode
Priority override
Mix minus mode
The Glensound BEATRICE MIX32 is a high density audio mixer for producing fixed ratio audio mixes from/ to Dante and AES67 audio networks. It can be fitted with a maximum of 4 independent mixer cards, each with their own redundant network interface. Each of these mixer cards provides 32 audio inputs and 32 audio outputs from the network, with the 32 outputs being mixes derived from different sets of input channels.
A number of different mix-minus mixes can be set on each of 32 x 32 mixer cards. These make it very practical to use as a central intercom mixing hub.
Audio limiter/ compressor circuits are also provided for each output.
The fixed ratio mixes in the Beatrice MIX32 were originally designed to allow network audio intercom systems to generate multiple listening circuits, however the high quality, low noise, digital mixers can be also be used for many other applications.
A priority mode can be used, and when a signal is present on a priority input, all other inputs are dimmed.
Being designed for 24/7 broadcast operation, the Beatrice MIX32 features both redundant power supplies and also redundant network interfaces.
Dante network audio is a common protocol for distributing high quality linear audio over standard IP networks and it is widely used by many audio equipment manufacturers. The Glensound Beatrice Mix32 Dante audio interface will be compatible with any other manufacturers' Dante audio interface. Further details of Dante network audio can be found at www.audinate.com
Each BEATRICE MIX32 can house up to 4 independent 32 x 32 channel mixers.
The BEATRICE MIX32 is supplied with just 1 of 32 x 32 channel mixer. Extra mixer cards can be factory fitted at the time of order or can be retro fitted by customers into existing BEATRICE MIX32 racks. The part code for ordering extra 32 x 32 mixers is 'BEATRICE MIX32 Extra Card'.
Each mixer has 32 audio inputs and 32 audio outputs to/ from the Dante/ AES67 network. The table below describes what input channels are mixed together to create each output.
Output Mix Of Inputs
1 1-32
2 1-24
3 1-16
4 17-32
5 1-8
6 9-16
7 17-24
8 25-32
9 1-4
10 5-8
11 9-12
12 13-16
13 17-20
14 21-24
15 25-28
16 29-32
17 1 & 2
18 3 & 4
19 5 & 6
20 7 & 8
21 9 & 10
22 11 & 12
23 13 & 14
24 15 & 16
25 17 & 18
26 19 & 20
27 21 & 22
28 23 & 24
29 25 & 26
30 27 & 28
31 29 & 30
32 31 & 32
Mix-Minus Mixers
Each mixer card provides eight pre-configured options for generating mix-minus outputs. The table below shows details of these eight different configurations.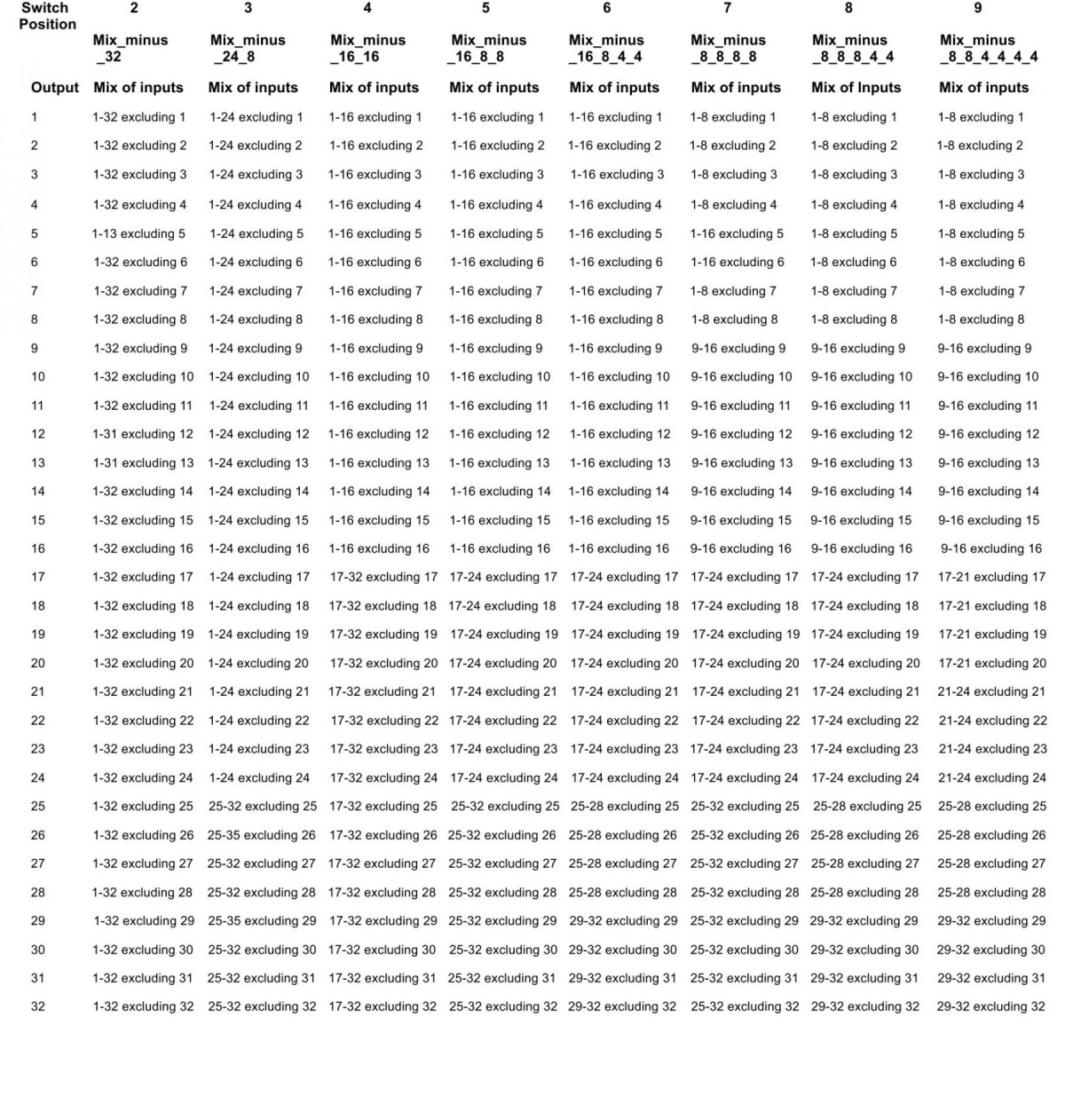 NETWORK:
Physical Interface: 2 x Copper Neutrik Ethercon
2 x SFP (Fibre GBIC) Slots (SFP modules not included)
Audio Sample Frequency: Up to 96kS/s
Transfer Rate: 1000 Mbps
AUDIO:
Audio inputs & outputs are entirely digital fed via the digital network. Internally audio is processed in a DSP with 32 bit resolution. Performance is expected to be completely flat and noise free. We cannot measure it as its performance exceeds the range of our test equipment.
PHYSICAL:
Size: 19" 1RU, 30cm deep
Weight: 2.8Kg (1 mix card fitted)
Shipping Carton: Rugged export quality cardboard
Shipping Size: 62 x 42 x 12 cms
Shipping Weight: 4.5Kg
POWER:
Quantity of Inputs: 2
Physical Inputs: IEC plug
Type of Input: Fully redundant
Voltage Range: 100 – 240 VAC +/-10%
Frequency: 50 – 60 Hz
Consumption: 14 Watts (1 x mix card fitted) then add 2 Watts for each extra mix card
ENVIRONMENTAL
Operating Temperature: 0 to +50°C (32 to 122°F)
Storage Temperature: -20 to +70°C (-4 to 158°F)
Relative Humidity: 0 to 95% non-condensing
INCLUDED ITEMS:
RJ45 Cable: 2 of per mix card fitted
Mains Cable: 2 of (UK & Europe only)
The Beatrice Mix32 also features a loop through mode. When set to this mode each input is routed directly to its equivalent output. Such that input 1 is routed to output 1, input 2 is routed to output 2 etc.
When in the loop through mode no compressors or limiters are turned on.
The reason for the loop through mode is to help overcome the issue of streams in Audinate's Ultimo chipset. The Ultimo chipset from Audinate is used by many manufacturers as it's a low cost entry level device for connecting up to 4 bi-directional audio channels to a Dante network. Although a 4 audio channel device, the Ultimo chipset can only receive 2 IP network streams. This means that the 4 incoming audio channels can only come from 2 different devices.
Using the loop through mode in the Mix32 allows 4 different audio channels originating from 4 different network locations to be looped through the Mix32 and sent onwards to a device using the Ultimo chipset, meaning that as far as the Ultimo chipset is concerned all 4 audio sources are coming from 1 single network location.
Associated Products