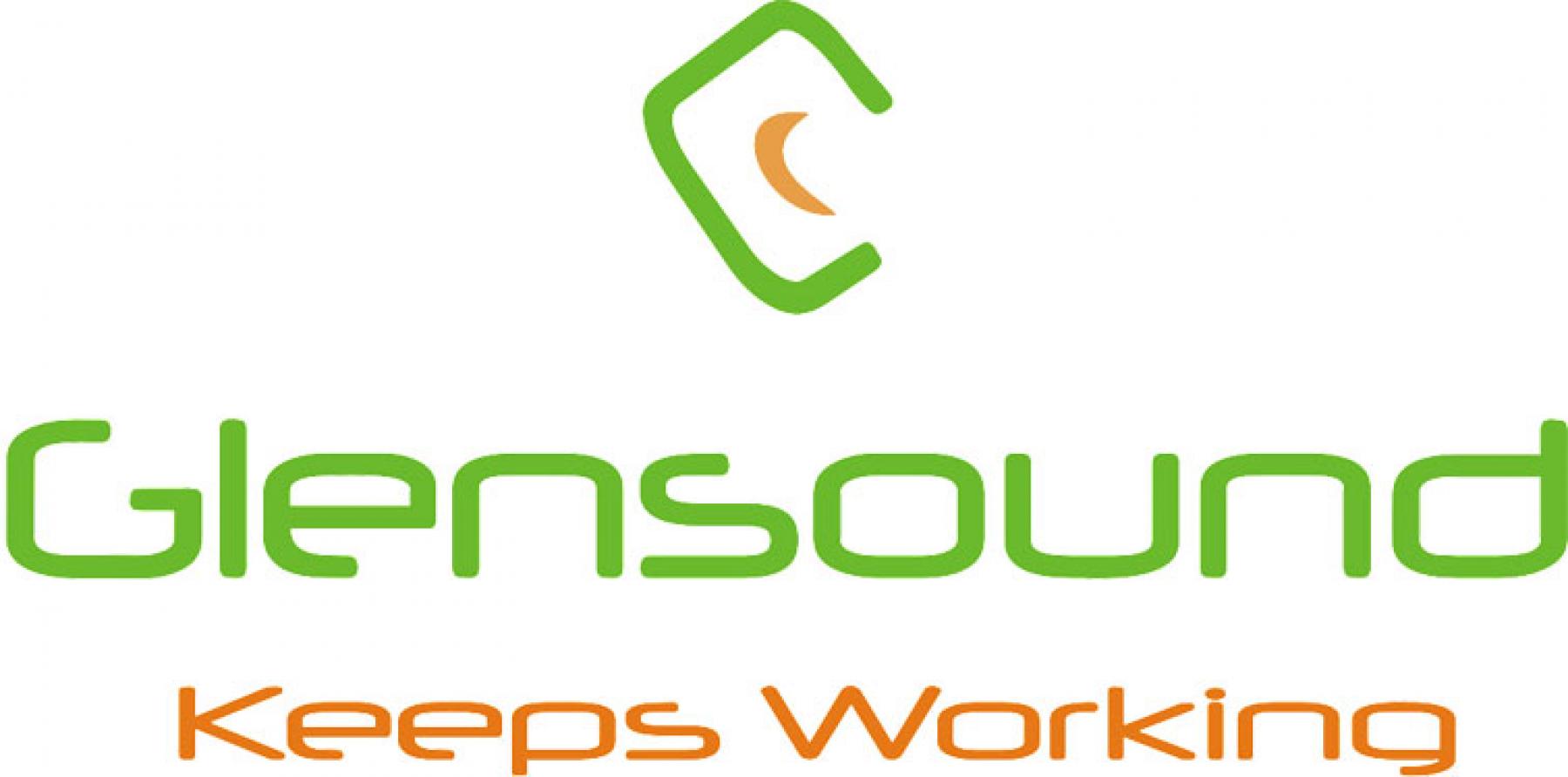 UK : 01622 753662
International : +44 1622 753662
Login / Quote Area
0 items in your quote basket
The Signature SW 8:2 is a broadcast specification, 8 mono/ 4 stereo source selector switch/ mixer.
There are 8 balanced audio inputs on 3 pin Neutrik XLR sockets on the rear panel and these can be set globally to be 8 mono inputs or 4 stereo inputs.
On the front panel there are 8 large illuminated buttons for turning sources on/ off. They work as 8 individual switches when in the mono mode and 4 pairs of stereo switches when the SW 8:2 is set to stereo.
Two balanced Neutrik XLR plugs on the rear panel provide the output of the unit, which will either be one single mono channel or 1 stereo channel when the unit is set to 'switch' mode or a mix of all selected sources when set to 'mix' mode.
Three rear panel dip switches allow for setting mix/switch, mono/stereo & output pre/post headphone volume pot.
The front panel features a 6.35mm stereo TRS jack socket for headphones monitoring, with a full size pot to adjust the volume level. This headphone circuit monitors the output audio.
Power is provided by an internal switch mode power supply, with a wide input range. There is also an input for external +/-12V DC power. The +/-12V DC input can be connected to the optional Signature PS1 external DC Master Power Station, for situations where a redundant power supply is desirable.
May be delivered with a black finish
EXAMPLE 1:
SMALL STUDIO SOURCE SELECTOR
Adding Multiple Sources to a Small Mixing Desk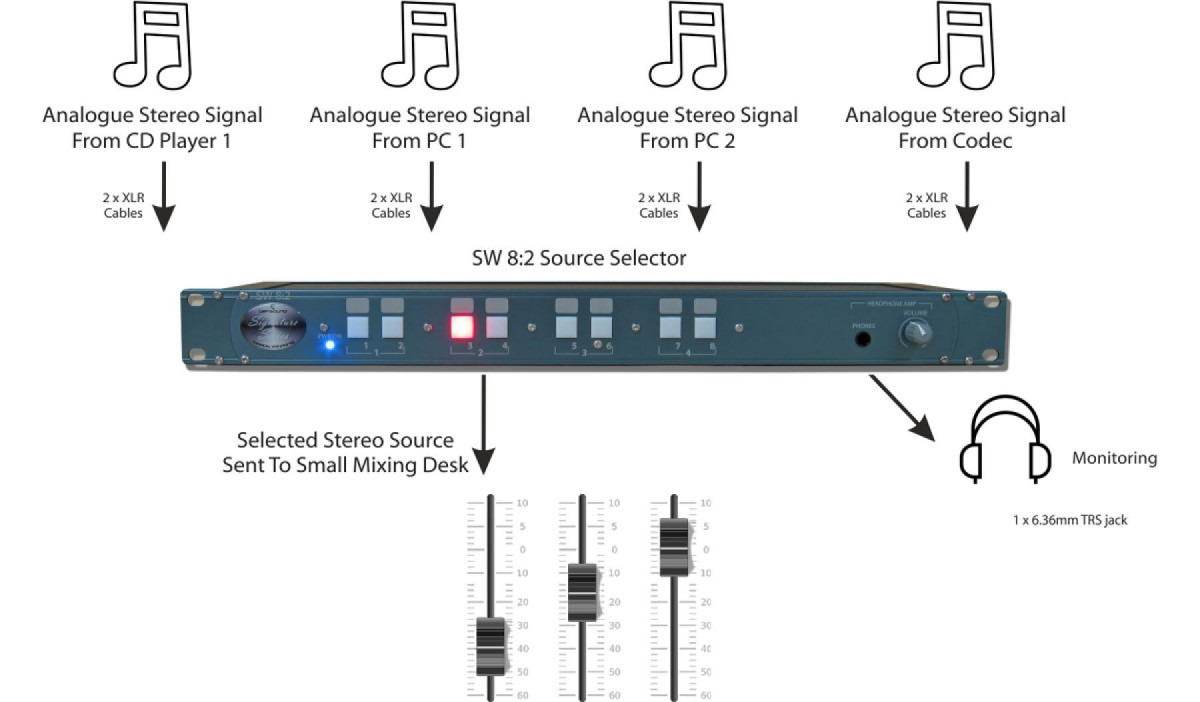 A lot of low cost and entry level radio and general purpose mixing desks have great facilities but often lack in input channel numbers.
Adding a Signature SW 8:2 is a convenient and easy way of turning 1 single channel strip on the mixer into 8 mono or 4 stereo mix sources.
This is normally a much more cost effective solution for adding extra occasional use channels to a desk than buying extra channel strips for the desk itself.
Being a Glensound Signature unit it is also a much better long term investment than adding extra channels to a low cost desk whose life span may well only be 5 years, whereas Glensound units normally have life spans exceeding 20 years.


EXAMPLE 2:
RACKS ROOM SOURCE SELECTOR
Routing/ Selecting Different Sources to The Racks Room Monitor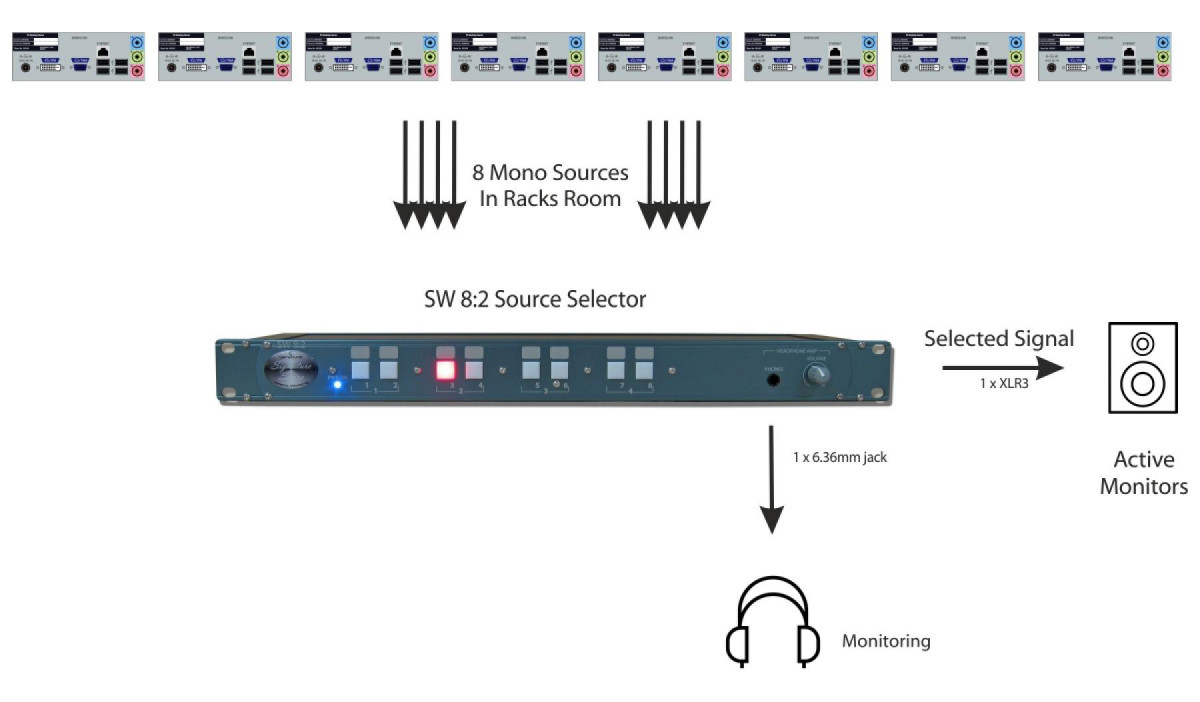 Many racks rooms in studio complexes and other technical environments have multiple audio circuits routed to patch panels and transmission/ distribution chains. Monitoring of these circuits with dedicated 1RU multi input broadcast monitoring subracks can be expensive and often a little limited by the small size and poor performance of 1RU rack loudspeakers.
The alternative is to use the 8:2 source selector and your choice of standard active monitors which will provide a much better audio quality solution and depending upon your monitor choice will also be a much more cost effective solution.
If the rear panel post/pre dip switch is set to post then the front panel volume pot will adjust the output level and act as a loudspeaker volume control.
The front panel headphone output also provides another solution to monitoring the sources if no monitor loudspeakers are required.
AUDIO INPUTS
Maximum Input Level: +28dBu
Input Impedance: 47k balanced, 23k unbalanced
Balanced Input Type: Sophisticated electronically balanced (can be wired unbalanced)
Connectors: Neutrik 3 pin XLR sockets
Input Gain Control: +10/-10dB
AUDIO OUTPUTS
Output Impedance: <50 Ohms
Connectors: Neutrik 3 pin XLR plugs
Noise: >-86dBu RMS 22-22kHz (1 source selected)
Frequency Response: THD + Noise: < 0.008% @ 1kHz
Interchannel Cross Talk: >78dB 100Hz to 15kHz
Maximium Output Level: +24dBu
HEADPHONE OUTPUTS
Gain Range: +10dB to Off
Headphone Impedance: 32 - 1000 Ohms
Maximum Output Level: +17dB into 600 Ohms
POWER
Mains Input: Filtered IEC 100 to 230 VAC 47 - 63Hz
AC Consumption: 4.3 Watts @ 230VAC
DC Input: 4 Pin Neutrik XLR Plug +/-12V
DC Consumption: +12V = 88mA, -12V = 35mA
Internal Mains Fuse: 20mm 1A Anti Surge
PHYSICAL
Size: 445 x 163 x 44mm (LxDxH) no rack ears 482mm 19" (1RU) with rack ears
Weight: 1.35kg
Mechanics: All aluminium construction, anodised and laser etched
Shipping Carton: Rugged export quality cardboard carton 610 x 420 x 130mm LxDxH
Shipping Weight: 2.8kg
INCLUDED ITEMS
Mains Lead: 2 metre long (UK & Europe only)
Rack Bolts: 4 off Pozi head M6
Feet: 4 off rubber stick on feet
Handbook: Full A4 handbook available to download and linked by QR code on device